So proud of Huntsville making #19 in Money Magazine's "Top 25 Places Where Homes Are Affordable"
Residents who live in these 25 growing towns see their incomes go the furthest.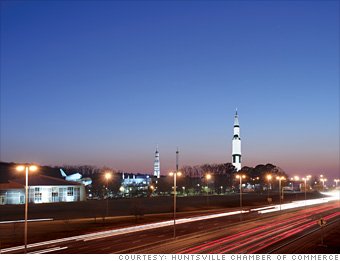 Via Money Magazine:
Median home price: $140,000 Median family income (per year): $68,755
When cotton was still king in post-war Alabama, Huntsville was a sleepy Southern city of 16,000 souls. After NASA's Marshall Space Flight Center began construction in 1950s, Huntsville's growth, well, skyrocketed. It has more than 170,000 residents today.
All those well-paid engineers, scientists and technicians mean Huntsville has a well-heeled demographic. That has not swelled home prices much: There are lots of like-new, four-bedroom, three-bath houses available for less than $200,000.
~~~~~~~~~~~~~~~~~~~~~~~~~~~~~~~~~~~~~~~~~~~~~~~~~~~~~~~~~~~~~~~~~~~~~~~~~~~
Should you or someone you know will be moving to the North Alabama area, please do not hesitate to contact me. I would be more than happy to send you a free relocation packet.